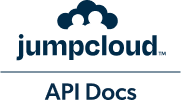 Welcome to JumpCloud documentation
About JumpCloud's APIs
Learn how JumpCloud's APIs extend and bring customization to your experience with JumpCloud. Our APIs offer the ability to interact with some of our core features such as: Commands, Systems, and Users.
Directory Insights API
Directory Insights API allows you to query directory events at your organization. It provides event logs of activity within your directory and monitors user authentications to the console, SSO, RADIUS, and LDAP. Shine a light on your audit trails leading up to critical events.
JumpCloud API
JumpCloud currently utilizes two versions of APIs. Depending on the type of integration, it may be required to use both V1 and V2 APIs. Please refer to each API doc to understand the functionality available in that API set.